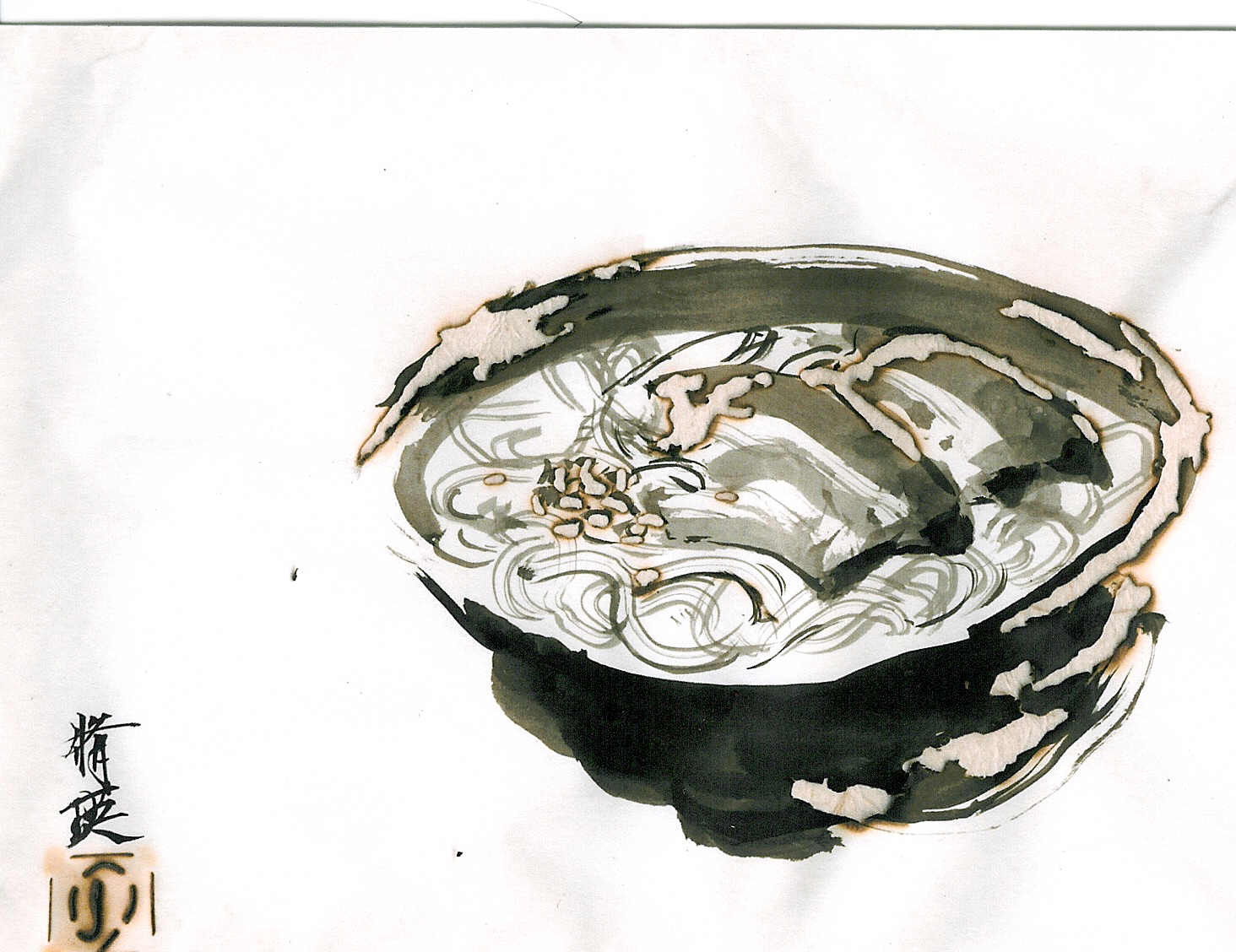 Okinawan Sparerib Soup
(Sokibuni nu Shimun)
---
Oh, it's just an amazing soup--a little Chinese...a little Japanese...quintessential Okinawan: that is, short meaty white spareribs, brown spongy mushrooms, yellow-green seaweed, white radish, and bright green mustard cabbage. Smell it: there's no mistaking the tang of ginger, but who could deconstruct that layered aroma of meat/seaweed/bonito fish/mushroom stock? And all those classic Okinawan health benefits. Pork (with all the fat boiled out of it) for protein. Mustard cabbage for regularity and a healthy stomach. Seaweed, rich in iron, calcium, and iodine; moderating blood pressure; practically no calories. I tell you, it's a fabulous soup. This recipe is adapted from Hui O Laulima's Okinawan Mixed Plate--and what nice people they are there in Honolulu, Hawaii. The graphic is by an astounding Okinawan artist. Serve the soup hot to 6 as a substantial first course...or a light meal.
---
8 dried shiitake mushrooms, softened in 1 cup warm water and a pinch of sugar for 15 minutes, then quartered (discarding the stems and reserving the mushroom liquid)
2 strips of dried seaweed, rehydrated in cold water for 5 minutes, then cut into 2-inch pieces (a little dried seaweed goes a long way--you want to end up with about 3/4 cup)
1/2 pound mustard cabbage, trimmed, blanched in boiling water for 1 minute, then strained and rinsed in cold water.
1 and 1/2 pounds meaty pork spareribs, cut into 2-inch pieces, then put into a pot of cold water, heated to a rolling boil, drained, and rinsed
1 whole nodule of fresh, young ginger, crushed but still in one piece for easy removal
4 cups water
1 small daikon radish, peeled and cut into small cubes
2 cups dashi stock (diluting 1 teaspoon of Hon-Dashi granules in 2 cups of boiling water)
3 Tablespoons soy sauce
2 teaspoons salt

It's most efficient to prepare all the ingredients at the start--softening the mushrooms, rehydrating the seaweed, blanching the mustard cabbage, parboiling the ribs--and only then starting the soupmaking.
Put the mushrooms, spareribs, and ginger in a large soup pot with the 4 cups of water. Bring to a fast boil, skimming away any foam, then reduce heat to medium and let cook, partially covered, for 30 minutes.
Add the seaweed pieces, cubed daikon, dashi stock, and reserved mushroom liquid, bring back to a boil, then reduce heat to low, cover, and cook for 15 more minutes, until the pork and daikon are tender.
When ready to serve, remove the hunk of ginger, season to taste with soy sauce and salt, and stir in the mustard cabbage. Bring the soup to a boil, then serve out into bowls.
This is kusuimum, eating it is good for you. For more information about Okinawa culture and soup customs, go to the January soupsong or February soupsong, which I wrote after traveling to Okinawa.