SOUPSONG HAS GONE HARDCOPY!
Buy one (or more) at amazon.com or barnesandnoble.com.
Release date: 12/28/2004.
You'll find many of these recipes in it, From AN EXALTATION OF SOUPS,
copyright © 2004
by Patricia Solley,
Published by Three Rivers Press.
* * *

Redi-base is the only prepared stock I use. I recommend that you try it.
* * *
"...a torrent of mutton broth with dancing coins of carrots, barley, onions, turnips, potatoes."
--James Joyce, Ulysses (where it comes hurtling down on Mr. Deasy's head and horse in Stephen's Nightown phantasy)

"...too many drugs spoil the broth. I know it myself. Dosing it with Edward's dessicated soup," thinks Bloom.
--James Joyce, Ulysses

ON PORTABLE SOUP:
"...This Glue is so strong, that two or three Drams, disolv'd in boiling water, with a little salt, will make half a Pint of good Broth, & if you shou'd be faint with Fasting or Fatigued, let a small Piece of this Glue melt in you Mouth, and you will find yourself suprisingly refreshed.
One pound of this Cookery wou'd keep a Man in good Heart above a Month, and is not only nourishing, but likewise very wholesome. Particularly it is good against Fluxes, which Woodsman are very liable to, by lying too near the moist Ground, and guzzling too much cold water. But as it will be only us'd now and then, in Times of Scarcity, when Game is wanting, two Pounds of it will be enough for a Journey of six months."
--William Byrd, History of the Dividing Line (1729)
It's a Question of...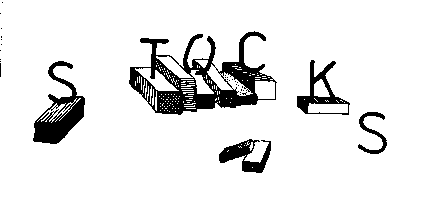 "Stock to a cook is voice to a singer"
--Anon.
---
Homemade stocks make a difference. And it's nice to boil up those vegetable scraps, those chicken backs, those choking fish bones that drive the kids crazy anyway. The smell of roasting veal, beef, even lamb bones is divine, and when sucked dry in boiling water with pungent spices--they fill the house with memories of degustation that make the most driven family feel the comfort of easier, slower days.
BUT. But professional soup bases, prepared bouillon cubes, bags of powdered stock, or liquid and canned stocks work too--and produce wonderful soups that, well flavored, belie hours of kitchenwork that never took place. No one would quarrel with the results. I swear.
The history of concentrated stock is interesting. Count Rumford (1753-1814), an American-born physicist and inventor, is credited with inventing "portable soup" or "pocket soup" while in the service of the Duke of Bavaria--made of a solidified stock of veal, meat trimmings, pork offcuts, and other ingredients. In fact, portable soup has been around much longer as a mainstay of nomadic cultures, including medieval Magyar warriors. An 18th century English "housewife" version appears below. The German chemist Justus von Liebig (1803-1873) is said to have invented meat extract.
Happily, home cooks can now reach beyond bouillon cubes to acquire professional soup bases. A company in Whitehall, Pennsylvania, sells a mail-order product called "Redi-Base" that essentially brings demi-glace technology to the home cook. I'm a believer. Not only do you get a vastly superior product for competitive prices, you get a product that is fat-free, low in sodium, and with no added MSG, artificial flavors, or colors. Redi-Base is available in chicken, beef, seafood, vegetable, turkey, and ham bases--all of which beat other commercial soup stocks by miles. I highly recommend you test them yourself: take a look at the Redi-Base homepage and make up your own mind.
NOTE: Because canned and cube stocks are usually saltier than homemade stocks, be sure to reduce salt additions to any given recipe when you use them.
NOTE: As a matter of interest to weight watchers, canned chicken broth has twice as many calories as canned beef broth.
NOTE: Also as a matter of interest, let me try to "clarify" some definitions: stock is the liquid extracted from foods slowly cooked in water and/or wine and used as a foundation for soup and other things; broth is an English term for the liquid extracted from meat cooked slowly with water, which is then concentrated and used either as a foundation for soup or as a simple soup itself (pretty much like the French bouillon and the Italian brodo; consommé is a double-strength stock "finished" into a clear soup; and double consommé is a consommé that has been clarified (see below for instructions). When the stock is boiled down further, it becomes, progressively, a flavoring, essence, and glaze.
For the purist with the big freezer, I include here a number of recipes for fond de cuisine--the French word for stock, which, translated literally, means "foundation of the kitchen."
Slowly bring all ingredients to a boil in a large saucepan, skimming when necessary. Partially cover, and cook at a medium heat for 20-30 minutes. Freeze for later use if you wish.
NOTE: If you freeze the stock in ice cube trays, you can pop them into plastic bags and use as much or as little as you want at any time.
Bring all ingredients to a boil, lower heat, and boil gently for 45 minutes to one hour, til all the goodness is sucked out of the vegetables. Strain. Adjust seasoning.
NOTE: If you want darker broth, brown the vegetables in oil for 10-15 minutes over medium heat, then add water and herbs and bring to a boil, scraping up any dark bits from the bottom of the pan. Boil gently for 45 minutes and strain.
NOTE: If you want fragrance and complexity, add any combination of tomatoes, fennel, mushrooms, or other aromatic vegetable to the browning process, then boil and strain as above.
Put everything into a large stockpot and add water to the 3/4 point. Bring to a boil slowly, then reduce heat to a simmer and cook, covered, for 2 hours. Remove cover and simmer at least another hour. Strain stock and pour it into different sized containers (for different uses). Let sit til cool, then freeze, leaving the chicken fat on top to seal. When you're ready to use, it's easy enough to peel the fat off the top--and use it for other purposes, if you like.
Rick Saunders from Whitehorse, Yukon, Canada, recommends this: "I've found that I can (to quote a famous TV chef) kick chicken stock up a notch by adding just a touch of Saffron. Just my tuppence worth." I tried it...and he's right.
SoupTale: Ask Gertrude Ederle about the restorative powers of chicken stock. It was she, an American who became the first woman to swim across the English Channel (in 1926), who endured the 14 hour and thirty-one minute swim by being fed chicken stock seven times while she floated on her back.
Pour the water over the chicken in a large pot and bring to a boil. Reduce heat to medium low, stir in the rest of the ingredients, and simmer, skimming occasionally, for 2 hours. Strain, then remove the fat, as above.

1 pound meaty but lean pork bones
9 cups cold water
Bring the cold water, bones, and peppercorns to a slow boil, then reduce heat and simmer on low, skimming, for 45 minutes. Strain and skim off any fat.
Bring the cold water, bones, and meat to a slow boil, removing scum as it gathers. Reduce to the lowest heat and simmer, uncovered, for an hour. Add the ginger and msg, partially cover, and cook for 2-3 hours. Salt and cook 10 more minutes, then strain through a sieve lined with wet cheesecloth (to get a very clear broth). Let cool uncovered, then cover and refrigerate. Bring all ingredients to a boil, then reduce heat to a simmer and cook for 2 and a half to 3 hours, or until reduced by half. Strain the stock, then let it cool uncovered.
In a 450 degree F. oven, roast the bones and meat in a large roasting pan for an hour. Put all bones in a large stockpot, then deglaze the roasting pan with a cup of water--and pour that into the stockpot. Add the remaining ingredients, then fill the stockpot with water to the 3/4 point. Bring to a boil slowly, then reduce heat and simmer, covered, for 2 hours. Remove cover, then simmer for at least another hour. Strain and pour into a variety of different sized containers (for different uses). Do not remove fat--this will seal the stock for its life in the freezer. Let cool to room temperature, then freeze.
Blanch the bones over high heat in a large stockpot to remove impurities, then drain. Put the bones back in the pot and cover with 14 cups of water. Salt and return to a boil.

Meantime, char the ginger and onion over the burner, using tongs--this should take about 4 minutes. Rinse away any ash, and add both to the pot. Stir in the star anise, cinnamon, bay, cloves, and sugar. Put the fennel seeds in cheesecloth, a teaball, or in tin foil that's been pierced all over, and add them to the pot.

When the stock comes to a boil, reduce heat to law and simmer, skimming, for about 2½ hours. Strain and remove fat.

10 ounces smoked ham shank or smoked ribs
water
Soak the smoked meat in cold water for several hours, changing the water several times, if possible. Then put the meat in a saucepan, cover with 6 cups cold water, bring to a boil, then reduce heat and simmer for 30 minutes. Turn off the heat and let the meat cool in the stock.

5 and 1/4 cups of cold water
4-inch square of kombu (dried kelp)
1/2 cup flaked katsuobushi (dried bonito)
Sponge kelp clean and cut into a half-inch fringe. Put in a medium saucepan with cold water and bring just to a boil over moderate heat. Remove kelp (and reserve for one more stock making session). Return water to a boil, stir in bonito, remove from heat and let sit for 2-3 minutes. Strain (also reserving bonito for one more round) and use as needed. The stock will keep for a few days in the refrigerator.
PLEASE NOTE: AJINOMOTO MARKETS THIS STOCK WIDELY IN GRANULE FORM CALLED HON-DASHI, AVAILABLE AT MANY GROCERIES.

24 cloves garlic, unpeeled and crushed
4 carrots, washed and trimmed
4 celery stalks with leaves, washed and chopped
2 onions, quartered
2 turnips, quartered
2 quarts water
Put everything in a Dutch oven, bring to a boil slowly, then reduce heat and simmer for an hour, partially covered. Strain and use as needed. This is a great base for tomato soups.

"Portable Soup," from The Lady's Companion (1753)
To make a Veal Glue, or Cake Soup to be carried in the Pocket Take a Leg of Veal, strip it of the Skin and the Fat, then take all the muscular or fleshy Parts from the Bones; boil this Flesh gently in such a Quantity of Water, and so long a Time, till the Liquor will make a strong Jelly when it is cold: This you may try by taking out a small Spoonful now and then, and letting it cool. Here it is to be supposed, that though it will jelly presently in small Quantities, yet all the Juice of the Meat may not be extracted; however, when you find it very strong, strain the Liquor through a Sieve, and let it settle; then provide a large Stew-pan, with Water, and some China Cups, or glazed Earthenware; fill these Cups with Jelly taken clear from the Settling, and set them in a Stew-pan of Water, and let the Water boil gently till the Jelly becomes as thick as Glue; after which, let them stand to cool, and then turn out the Glue upon a piece of new Flannel, which will draw out the Moisture; turn them once in six or eight Hours, and put them upon a fresh Flannel, and so continue to do till they are quite dry, and keep it in a dry warm Place: This will harden so much, that it will be stiff and hard as Glue in a little Time, and may be carried in the Pocket without Inconvenience.

You are to use this by boiling about a Pint of Water, and pouring it upon a Piece of the Glue or Cake, about the Bigness of a small walnut, and stirring it with a Spoon till the cake dissolves, which will make a very strong good Broth. As for the seasoning part, every one may add Pepper and Salt as they like it, for there must be nothing of that Kind put among the Veal when you make the Glue, for any Thing of that sort would make it moldy. As we observed above, that there is nothing of Seasoning in this Soup, so there may be always added what you desire, either of Spices or Herbs, to make it savoury to the Palate; but it must be noted, that all the Herbs that are used on this Occasion, must be boiled tender in plain Water, and that Water must be used to pour upon the Cake Gravy instead of Simple Water: So may a Dish of good Soup be made without Trouble, only allowing the Proportion of Cake Gravy answering to the abovelaid Direction: Or if Gravy be wanted for Sauce, double the Quantity may be used that is prescribed for Broth or Soup.
SoupTale: In a newspaper interview, the world famous operatic tenor Enrico Caruso recounted the following story about his life--"I went into the artillery and my major wanted to know who was that fellow who was singing all the time.... One great day he took me to a friend, a wealthy amateur musician, who listened to me and taught me the tenor roles in Cavalleria Rusticana and Carmen. One day I did not sing at all. The major sent for me. 'Why did you not sing today, Caruso?' 'I cannot sing on greasy soup.' Next day, my soup was strong and there was no grease on it."
For each quart of stock, you will use one slightly beaten egg white and one crumpled egg shell.

Either have the stock at room temperature, or cool down with ice cubes.

In a cooking pot, stir the egg whites and egg shells into the stock. Put the pot on a simmering heat and very slowly, without stirring, bring the mixture just to a simmer. As the sediments coagulate with the egg whites, a thick scum will rise to the surface of the liquid.

Don't succumb to the temptation of skimming the pot. Just push the scum aside so you can keep an eye on the simmer of the stock--anything close to a boil will disturb the clarifying process.

Simmer for about 10-15 minutes, then carefully remove the pot from the heat and let stand for anywhere from 10 minutes to an hour.

When you are ready to collect the stock, just push the scum aside and ladle the stock through a sieve lined with a cloth that has been dipped in hot water and wrung out. Let the stock cool to room temperature uncovered, then tightly close and refrigerate until you are ready to use it.