To Julia:"All things in heaven
and earth do her potage"
(e-SoupSong 52: September 1, 2004)
---
ONCE UPON A TIME, I was a young mother with baby Meg in arms when my husband left home to join a detachment of Marines in Asia. George trained in thick Okinawan jungles. He deployed to exotic places--Hong Kong, the Philippines, Guam, Tinian, and Saipan. And then, April 1975, Saigon fell. As hundreds of thousands of people fled Vietnam, he was part of the effort to help--picking them up at sea...securing and feeding some 8,000 frightened and hungry refugees on a Military Sealift Command cargo ship...working on and around Grande Island in the Philippines to help with the refugee disembarkation process.
At last, that September, he came home. He threw his seabag on the bed, opened it, turned around with a suggestive leer, and handed me...Julia Child's Mastering the Art of French Cooking, Volumes One and Two.
* * *
Twenty-nine years is a long time to be inspired by a humorous, wisecracking, perfectionist cooking muse--and now, just two weeks ago, Julia Child, that grand "lady of the ladle," died, two days shy of her 93rd birthday.
How to pay my respects? In Washington, thankfully, it's easy. You can make a pilgrimage: out of my office...down Pennsylvania Avenue to the Archives...over 9th Street to the National Sculpture Garden...up Constitution Avenue past the Museum of Natural History...up the sweeping drive into the Museum of American History...and straight into Julia's kitchen.
There it is, plunked down from her Boston home exactly as we saw it on her cooking shows: magnificent pots and utensils. Knives everywhere. Garland six-burner stove. Extra high wooden counters. Sea green cabinets, wooden blinds, speckled linoleum floor, cat effigies and cartoons. A framed picture that reads, "I wasn't there. It didn't happen. It was the little people."
And we many Julia disciples--it was pretty much a mob scene--we all just stood there watching old French Chef shows on the monitor, laughing.
* * *
JUST WHO WAS THIS WOMAN WHO LAUNCHED A MILLION WHISKS?
A real character, right from the start. She stood 6'2"; green eyes, permed hair, weak knees, big feet (when her house burned down in Georgetown, she threw her shoes out the window first because her size was so hard to find). Alarming and distinctive voice. A complete extrovert and organizer of fun. A lover of practical jokes and cats. A player of golf and tennis, sometime skier, accomplished on the piano, accordion, and bugle. A heavy smoker much of her life. A crybaby at movies.
And a cosmopolitan: Born and raised with a silver spoon in Pasadena, California. Educated in Massachusetts (Smith, class of 1934, A.B. history). Lived in New York City; Washington, DC; Kandy, Ceylon; Kunming, China; Paris and Marseilles; Bonn; Oslo; Boston; spots all over California.
And a late bloomer. After college, with no expectant husband on the horizon, she tried an advertising career in New York City...returned to California to nurse her ailing mother...put in a stint as a fashion/society columnist...then accepted a public relations/marketing job way over her head. Fired! "And rightly so," she'd say later.
Then, suddenly, it was wartime. She immediately applied for military duty, but was rejected--too tall. So she moved to Washington in 1941 and ended up in Wild Bill Donovan's E-Street HQ of OSS (Office of Strategic Services, forerunner of today's CIA). The job was menial, but important, and she soon earned an overseas assignment--head of registry at Mountbatten's tea plantation headquarters in Ceylon, processing classified papers concerning the planned invasion of the Malay Peninsula.
In 1945, she transferred to Kunming in south China, processing intelligence from agents and operatives all over the China-Burma-India theater and keeping all mail and operational orders coded, tracked, and moving. And here, in the short months before war ended and everyone was sent home, she fell in love with Paul Child.
They'd met in Ceylon; now here he was again, setting up General Wedemeyer's war room in Kunming. He was small, 10 years her elder, sensitive, introverted, artistic, a womanizer, and doted on fine wines and food. They had absolutely nothing in common. They were married a year later.
SHE'S 34 AND DOESN'T KNOW HOW TO BOIL AN EGG?
Correct. But knowing how Paul loved food, she took some postwar, pre-nuptial cooking lessons in California...and began heavy experimentation as a new bride in Washington. Beef hearts, Mmmmmmm. Kidney pies, Mmmmmm. And how about the time she served cocktails with avocado slices in them?
Then fate intervened. Paul got a job in Paris as Exhibits Officer at the American Embassy. Paris! Driving off the S.S. America in Le Havre, they stopped at Rouen for her first French lunch: Pouilly-Fuissé, oysters, sole meunière, salade, crème fraîche, and café filtre. It was love at first bite. Julia brushed up her French and enrolled at the venerable Cordon Bleu cooking school at 129, rue du Faubourg St.-Honoré.
Do you, perhaps, have a picture in your mind of Audrey Hepburn in the film Sabrina taking elegant, restrained, and very formal French cooking classes there? Don't. Julia took her classes with 11 American guys on the G.I. Bill. For laughs they called Sauce Béchamel, "Sauce Betcha-smell."
But for Julia, this was it. She'd found her métier, her calling, the transforming passion of her life. She caught fire in the kitchen, became an incandescent, tireless cook--and within a year was working with French friends to translate her new but profound understanding of French cuisine into an easy-to-follow cookbook for American housewives. "Our primary purpose," she said, "is to teach you how to cook, so that you will understand the fundamental techniques and gradually be able to divorce yourself from a dependence on recipes."
Ten years later, Mastering the Art of French Cooking was in bookstores. It was a sensation. It launched Julia into newfangled educational television, the avatar of all once and future cooking shows (329 of them in some 33 years); it was the first of her 11 career cookbooks; it became, as you heard, my primer in the fall of 1975. I mean, really: have you ever met anyone in your life who didn't adore this woman and count her among the stars of culinary heaven?
AND IS JULIA FULL OF SOUP?
Mais oui, beaucoup de soupe. "There is," she said from the start, "hardly a man alive who does not adore soup, particularly when it is homemade. Hot soup on a cold day, cold soup on a hot day, and the smell of soup simmering in the kitchen are fundamental, undoubtedly even atavistic, pleasures and solaces that give a special kind of satisfaction."
So how many recipes for soup and stock do you think she prepared for her television shows and in her books?
236.
236! That's a LOT, when you consider the universe of French cuisine. But please note: Julia had her favorites. That 236 number is deceptive because, from 1961 to the year 2000, she made the same ones over and over and over again. For example, nearly every cookbook showcases:
The same 4 potato and leek soups, from potage Parmentier to vichyssoise.
The same cream soups--lush, fatty veloutés and pureed rice diet versions.
The same pistou, bisques, consommés, and fish soups (bouillabaisse, bourride, matelote, chowder).
AND (there should be a drumroll here)

Onion soup, the classic Soupe à l'oignon--in plain, gratineed, and deluxe versions.
Talk about a fixation. Sometimes she'd let you add red wine instead of white. Sometimes she'd omit the cognac. Over the years she upped the percentage of onions to broth...and acquiesced in spelling out directions for using canned stock and bouillon cubes.

Bottom line: she adored this soup. She never tired of preparing it on television or for her home table. The French, she said, specially honored this dish with the singular noun--à l'oignon, not aux oignons as was the rule for other vegetables. "Not 'onions,'" she said with a flourish, "but The Onion."

JULIA'S LAST MEAL?

She'd always fantasized about it. Foie gras to start, she'd say, and oysters, a little caviar; pan-roasted duck; the finest wines; Roquefort and Brie; a rich dessert with Château d'Yquem. But her nephew David, at her bedside, said no--said, rather, it was...onion soup. Of course.

So, please, won't you join me in honoring this darling woman who changed the face of American cooking? For heaven's sake, stop at the store on the way home tonight and pick up some yellow onions, broth, dry white wine, cognac, crusty bread, and some good Parmesan or Swiss cheese. Get out your knives, roll up your sleeves, charge the atmosphere with the smoky, heady fragrance of Soupe à l'Oignon; and shout out loud, in the immortal words of The French Chef, Bon Appetit!

* * *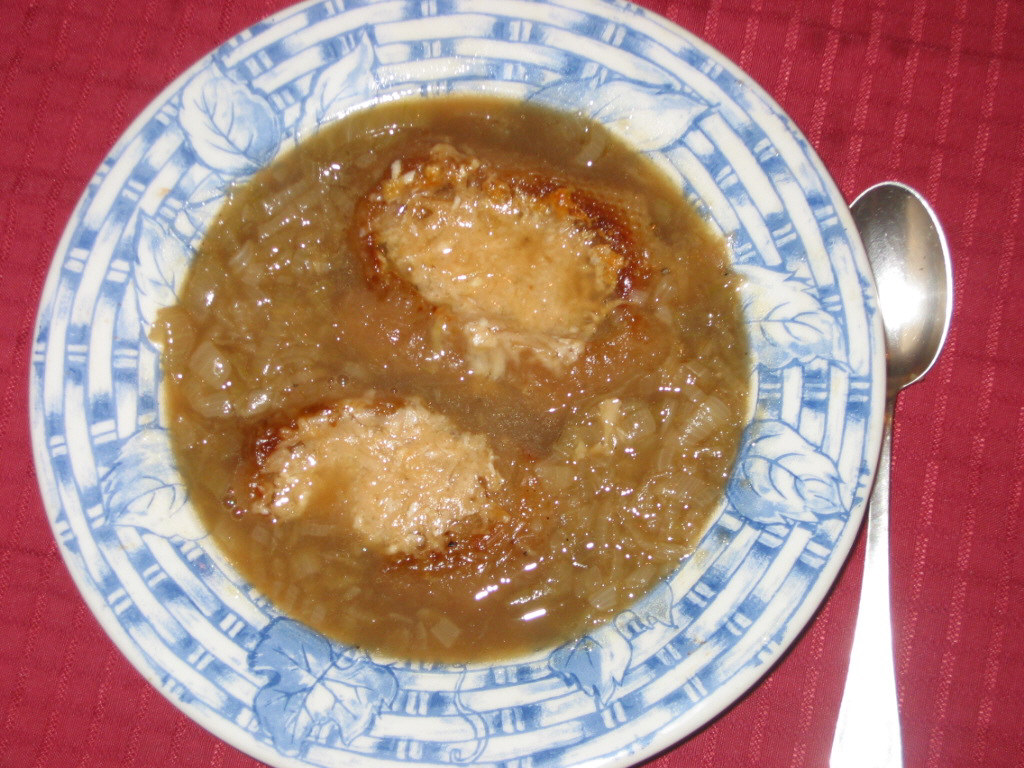 JULIA'S SOUPE A L'OIGNON--the classic version (6-8 servings)
From Mastering the Art of French Cook, Volume One
3 Tablespoons butter
1 Tablespoon olive oil
5 cups thinly sliced yellow onions
1 teaspoon salt
1/4 teaspoon sugar (to help carmelize the onions)
3 Tablespoons flour
8 cups light beef stock, at a boil
1/2 cup dry white wine (like extra dry vermouth)
Salt and pepper to taste
3 Tablespoons cognac
Garnish: 6-8 croutes of hard toasted French bread rounds; 1-2 cups grated Swiss or Parmesan cheese

Melt the butter and oil over low heat in a heavy soup pot. Stir in the onions, cover, and sweat til tender, about 15 minutes. Remove the cover, turn the heat up to medium, and stir in the salt and sugar. Cook 30-40 minutes, stirring often, until the onions have turned an even, deep, golden brown. Sprinkle in the flour and stir for 3 minutes.

Take the pot off the heat and whisk in the boiling stock. Add the wine. Season to taste. Put back on the heat, bring to a simmer, and simmer, partially covered, for 30-40 minutes or more, skimming as needed. Correct seasoning (you can set it aside uncovered at this point until you are ready to serve.

When ready to serve, with the soup at a simmer, stir in the cognac. Place the toast pieces in the bottoms of each bowl, pour the soup over it, and pass the cheese separately for your guests to help themselves.

* * *

...Let not the dark thee cumber;
What though the moon does slumber?
The stars of the night
Will lend thee their light,
Like tapers clear without number.

Requiescat in pace, Julia Child (1912-2004).

Best regards,
Pat Solley
www.soupsong.com
Resources: Julia Child's Cooking with Master Chef's, French Chef Cookbook, From Julia Child's Kitchen, Julia Child & Company, Julia Child & More Company, Julia's Kitchen Wisdom (book and DVD), The Way to Cook, ; Julia Child and Jacques Pepin's Julia and Jacques, Cooking at Home; Julia Child and Simone Beck's Mastering the Art of French Cooking, volume two; Julia Child, Simone Beck, and Louisette Bertholle's Mastering the Art of French Cooking, volume one; Noël Riley Fitch's Appetite for Life: The Biography of Julia Child; Robert Herrick's "The Night-Piece, to Julia"; And, to take a virtual tour of Julia's kitchen, please visit americanhistory.si.edu/kitchen
__________________________
NEXT MONTH: Bush vs. Kerry: In the Presidential Soup